Great Times at the EscapeMaker.com Travel & Food Fair! 
It was a beautiful day for a weekend trip upstate this past Saturday, but since I couldn't make it there- I invited a friend to join me at the Escapemaker.com Food & Travel fair in downtown, Brooklyn.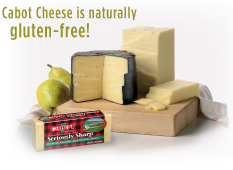 We learned about the 300 vineyards surrounding the Finger Lakes and tasted MANY oftheir fine wines, tried a variety of maple syrups from Vermont, and who knew that Cabot Cheese of Vermont had a gluten free Cheddar that tastes PHENOMENAL?! 
Every booth had something to try from their areas and really lovely people ready to tell you about the many B&B deals that us city folk take for granted. FYI: If you're looking for quiet and don't want to go far, check out Warwick, NY about 50miles from the city. Greyhound and Amtrak stop in the town's center and there's Dorothy the innkeeper that will even pick you up from the station. 
There were panels about green travel and also local spotlights on food and festivals from Brooklyn as well. Like the locally made honey, smoked salmon jerky, Empire State Beer, and cheese made by a beautiful Frenchman named Pierre that you can get on 7th avenue (I think I have a crush on his cheese). 
*sorry about the photos or lack there of.. I was wine tasting ;)